WHAT IT IS:  Protective personal equipment with a clear, curved plastic panel that shields your entire face.
WHY WE LOVE IT: Our favorite part? That the clear plastic panel allows you to see all those facial expressions you've been missing out on, and it lets you show off that Dior lipstick you've been waiting to break out. Plus, a face shield is comfortable, reusable, and easy to clean.
HOW TO USE IT: You put it on just like a visor, and can even slip a mask on underneath for double protection.
GOOD TO KNOW: Super easy to clean, just give it a spritz of our glass cleaner and wipe! No need to wash it.
DETAILS: Black comfort headband. Anti-fog plastic. The adjustable shield conveniently rotates 360 degrees. Made in China. Peel off the protective film on both sides of the plastic visor before use.
Customer Reviews
Write a Review
Ask a Question
05/17/2021
Nice shields
These are fine for the purpose they serve. Wearing ours over a mask in settings where we are in closet proximity to people talking.
Wendy M.

United States
12/23/2020
4yr Old Granddaughter Wears Masks More Readily
Well constructed and easy for child to use. Lighthearted and colorful.
Bella D.

United States
08/29/2020
face shields
Have not had opportunity to use face shields yet, but assuring to have on hand when I require them. Good quality, nice headband.
D A.

United States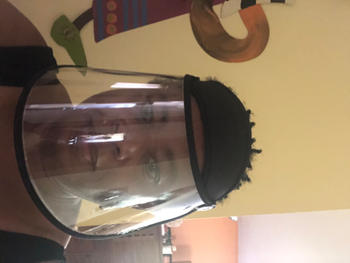 08/06/2020
Sturdy Non Medical Face Shield
These are sturdy and easy and comfortable to wear over masks and glasses. I am very pleased with this product.
Bella D.

United States
07/30/2020
face shield too tight
well made, but even with my small head the band around the top is way too tight, and not adjustable. I've tried using it, but gives me a near instant head ache. wish it were Velcro or something else, anything but spring loaded with hard plastic; reminds me when i used to buy headbands to hold my hair back and some pinched my head
Diane N.

United States